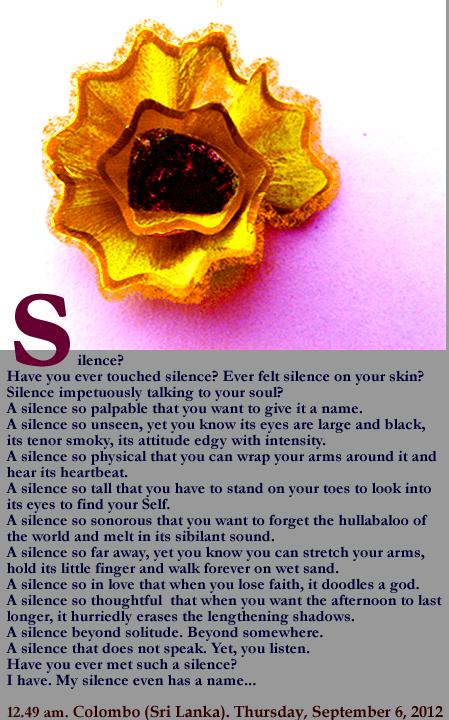 You never know when and where Belief can begin: it could grow out of individual darkness, rise out of a loud laugh, or just happen during those eternal chores. It could begin in that thud of betrayal, in that pandemonium of aloneness, in that irrelevance scribbled in haste, in the love that elevates the paltry into passionate poetry; in the absence of the one who is always present. You can never know.

To me, Deep Blue Ink just happened. I woke out of a dream and walked straight into it. A few years have hastened past since it all began in an apartment in California. It has been fascinating - beautiful moments have been walking in and out of my life talking of Michaelangelo, there's been agony beyond repair, there's been lessons that bettered me, there's been ecstasy that refuses to be measured in coffeespoons, there's salvation waiting a mere heartbeat away.
My seven hours for a story on sex workers was my only tryst with Destiny's eccentricity - they did not choose their wombs, Fate could have played dirty with me too; the soft-spoken prime minister in whose presence even my faint heartbeat pounded like chaos; the roar of the snowmobile on the frozen lake at the Arctic Circle; the tears at the Auschwitz Nazi concentration camp; prejudice that was vanquished at the Sydney Mardi Gras; the dawn at Maha Kumbh where god acquired a new hue; the hurried hug of a stranger; the quiet, immeasurable kindness of a guide with tidy crow's feet...

In between, there has been the Me growing out of pigtails and accepting the first strand of silver in my long hair; the giggles that respond when I beckon them; the Faith that has mended its own vulnerable fate; the eyelids that stand guard while the eyes wait, the peace that has conquered the blue sky above me, the lightness of not seeking anything, the love that ticks incessantly...
All articles/photographs featured in Deep Blue Ink have been written/shot by me.